Orientation, Mirabel
(January 13, 14)
Our trip started with a large orientation session held in Mirabel. The Mascouche group and our group stayed with the Mirabel group, and we all had the chance to meet other participants, group leaders, and our regional co-ordinator. We were taught about the history of Katimavik, the founding fathers, and some of the fierce struggles Jacques Hébert underwent while attempting to save Katimavik during the Brian Mulroney Budget-Cuts. The principals, policies, and philosophy of Katimavik were explained, and we learned a fundamental fact about Katimavik... it is not work and it is not school, but one will never stop learning while on the seven month adventure.
Mirabel, Québec
One of Québec's largest MRCs (Regional County Municipalities), the Mirabel agricultural region has prospered because of industrial and commercial development that has developed around Mirabel International Airport. Located in the foothills of the Laurentian Mountains northwest of Montréal, the town of Mirabel has abundant green spaces for the benefit of outdoors lovers, including Domaine Vert Park and Bois de Belle-Rivière forest. The friendly population of 26,000 is 98% French-speaking and the remainder English-speaking.
Community Partners et proposed activities
Bois de Belle-Rivière : Maintaining forest trails, preparing decorative garden, painting the interior of the building, recycling materials, organising special events: Boisé en fête, Music festival, mountain bikes competition.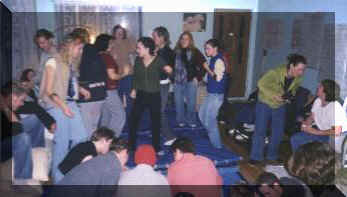 And the Katima-Hooligans were everywhere...this was our introduction.